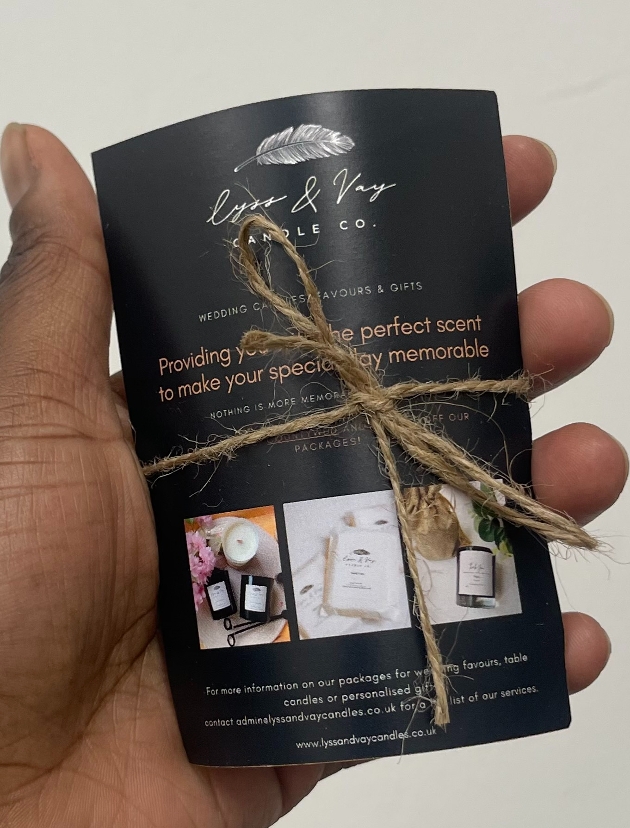 A small business set up in Northamptonshire, Lyss & Vay Candle co has provided some gorgeously scented wax melts for our goodybags for County Wedding Events' wedding show season. At our Signature Wedding Shows, taking place at The Brentwood Centre and Mercedes-Benz World this Autumn, and Wembley Stadium and Ascot Racecourse in Spring 2023, couple attending have the chance to win their honeymoon and SpaBreaks.com voucher, and get to take away a goodybag.

Lyss & Vay Candle co. has been birthed out of a love fresh and warm scents for the home. Owner and creator Janene says, "As a candle lover, I enjoyed making candles as a hobby for my home and as gifts for family and friends. My hobby became a passion giving me the inspiration to create it into a business leaving my ten year career in the property industry behind.
"Every candle is hand poured with love using 100% soy wax, free from any synthetic additives, paraffin or phalates. We also use wooden wicks which last longer and create a more even burn throughout our candles, not to mention the soothing crackling sound! Our packaging is biodegradable and recyclable and our glass candle jars can be re-used in the home once cleaned.

"Why we use soy wax. Soy wax comes from a vegetable extracted from soy bean oil. This form of wax has a lower melting point than most traditional waxes, such as paraffin and solidifies at room temperature. Soy wax is more of a favorable wax for retaining scents from fragrance and essential oils without the need to use chemical enhancers. As this is a slow burning wax the scent is released gradually creating the perfect atmosphere wherever you choose to use it.

"Although all candles give off some soot while burning, soy candles produce much less than that of a paraffin candle, which means it releases significantly less toxins as they burn in the air. Soy candles last much longer than say a paraffin candle of similar size. It is also biodegradable which has a more positive impact on our environment. Soy wax is completely natural and will not have any damaging effects on the body."

Visit https://www.facebook.com/lyssandvaycandleco/ | https://www.lyssandvaycandles.co.uk

Find out more about County Wedding Events' Signature Wedding Shows here.