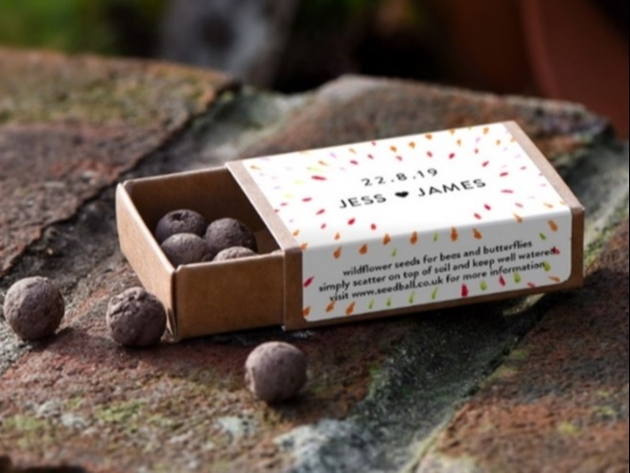 London-based wildflower specialist Seedball, has developed a range of customisable wedding favours that can help spread the love on a couple's special day, without the reliance on single-use plastics or other unsustainable materials. You can pick up your very own favour in one of our goodybags when attending one of County Wedding Events' Signature Wedding Shows.

With increasing amounts of people becoming engaged in environmental issues, more and more sustainable options are being sought out by consumers. As an issue that people feel very passionately about, it makes sense that they would want to share this passion with their nearest and dearest.

These super cute wedding favour seed boxes are a great way to say thanks for coming to the wedding, while helping bees and butterflies at the same time!Made from 100% recycled card, each matchbox has a choice from five different designs and seven wildflower mixes, along with the special personalisation option.

As the seed balls begin to flower, guests will be reminded of the special day, helping to create a lasting memory. Spread the love while helping the environment and the beautiful wildlife within it!

The boxes contain six seed balls and a little card explaining how they work and proced £2.50 per box.

Find out more about how Seedball is helping encourage a gardening revolution at seedball.co.uk

Find out more about Signature Wedding Shows by County Wedding Events here.