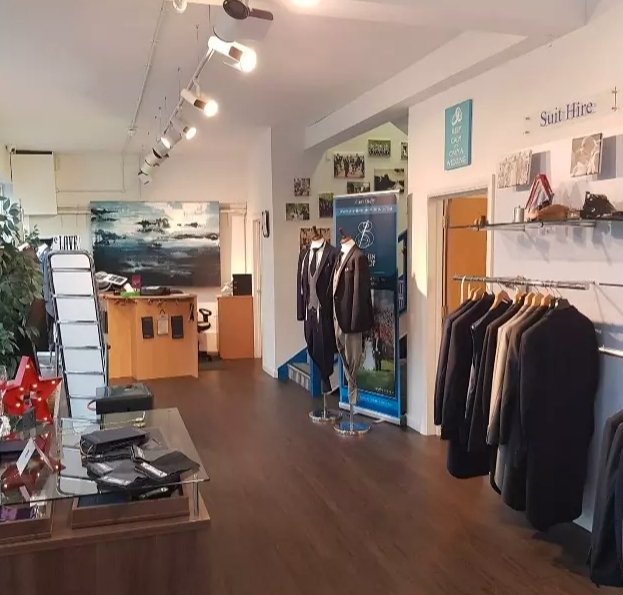 Regular show favourite Stephen Bishop from Woking-based formal menswear store Stephen Bishop Suiting shares his top advice for choosing your big-day attire. What's more, Stephen will be on hand, at County Wedding Events' Signature Wedding Show at Ascot Racecourse, on 1st October 2023 and also Mercedes-Benz World on 29th October - here he can answer all of your wedding day questions and will have a huge selection of his suits and coordinating accessories on display.

Q – Tell us about your company. Established in 2013, Stephen Bishop Suiting opened specifically to offer men a higher-end, one-stop-shop for formal wear, specifically with weddings in mind. I'm a multi-award-winning formal wear specialist with more than 30 years of experience.

Q – What services do you offer? Stephen Bishop Suiting offers suit hire, made-to-measure and off the shelf suiting with all of the respective accessories required to help create a complete look. Specialising in the group look, with a large range to choose from accompanied with our years of experience, whatever your requirement, we're confident that will find you the perfect outfit.

Q – What should couples expect when visiting your store? Our whole being is about quality-of-service matching the quality of the product. With a purpose-built showroom to allow for comfort and a separate try on room for privacy, you will find an unrivalled service. In addition, diary allowing, you will be offered refreshments to enhance your experience further.
Q – What's your favourite wedding suit and why? My favourite suit is simply the suit that suits you the best. Whether it's a standard tail or the brightest of blue fabrics made to measure, as long as it works for you then it works for us.

Q – How long before the wedding should couples book an appointment? For more than 30 years, I've recommended you sort suiting out as early as is comfortable, especially when choosing a more specialist, independent firm. Availability is one thing but just ticking "menswear" off your wedding to-do list is one less thing to sort or even worry about. It isn't unusual for clients to start the process 12-18 months before the wedding. In our minds, menswear is just as important as the dress, so why not sort them at the same time?

Q – What's your favourite part of the job? My favourite part of the job is helping to create that perfect look. Of course, most clients are first-timers so have very little formal suiting experience let alone creating a group look that must complement a wedding theme. To me, it doesn't matter if it's a single suit hire for a quiet registry office wedding or six full-blown made to measures, if it works it works, and that's very rewarding.

Q – Do you have any top tips for grooms looking for their wedding suit? My main tip is to have an open mind and to think about your group. Of course, a groom may be looking at that perfect suit for him, but what about the older guys in the party or larger gentleman? What looks great on one person may not work on another. Also, beware of social media as all too often there is an assumption that a unique suit found on say Pinterest is naturally available to hire. I'm afraid that's not the case, so we suggest a call in advance before visiting any shop to check that they actually have the styles or colours that a groom or bride is looking for. We do have grooms arrive, often without an appointment with six, seven or eight guys in tow to "sort suits out" only to find that we do not have what he is looking for let alone time then and there to look after them. That is at least a two-hour transaction. When we make appointments, we also ask who is attending, an idea of colour scheme and even have pictures sent to us via email in advance of an appointment just so we can be confident that we can assist.

To find out more about Stephen Bishop Suiting, visit www.stephenbishopsuiting.com

County Wedding Events' Signature Wedding Show at Ascot Racecourse
Where: High Street, Ascot, Berkshire, SL5 7JX
When: Sunday 1st October 2023, 11am - 3.30pm
Pre-register your attendance at: Signature Wedding Show at Ascot Racecourse

County Wedding Events' Signature Wedding Show at Mercedes-Benz World
Where: Brooklands Drive, Weybridge, Surrey KT13 0SL
When: Sunday 29th October 2023, 11am - 3.30pm
Pre-register now! Signature Wedding Show at Mercedes-Benz World

Find more of our local shows here! or to download one of our free magazines visit www.county.wedding/free-download